EY Entrepreneur Of The Year har nomineret Microsolutions
Microsolutions A/S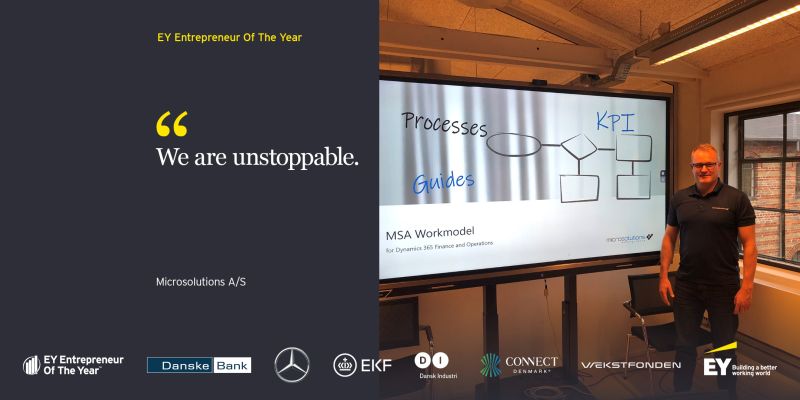 Ernst & Youngs Entrepreneur Of The year har nomineret Microsolutions til prisen som Entrepreneur Of The Year 2020. Det er vi alle i Microsolutions både glade og stolte over.
Formålet med konkurrencen er at motivere, engagere og fremme iværksætterlyst og entrepreneurskab samt inspirere morgendagens vækstsuccesser. EY Entrepreneur Of The Year er verdens mest anerkendte konkurrence for vækstskabere, både i Danmark og globalt. 
I anledning af nomineringen fik Microsolutions CEO Claus Brønd Larsen besøg af komiteen fra EY Entrepreneur Of The Year bestående af Mathias Thuesen, Morten Klarskov Larsen og Annette Bøtkjær. 
I den forbindelse udtaler Claus Brønd Larsen: 
"Tak til komiteen for et både inspirerende og givende møde. Vi sætter stor pris på EY-nomineringen. Den giver os mulighed for at sammenligne os med mange dygtige og spændende virksomheder. Det giver blod på tanden og inspirerer os til at gøre det endnu bedre."   
En del af Microsolutions fremtidsplaner indebærer bl.a. en større lancering af Workmodel, som er et værktøj, der giver overblik over virksomhedens processer og arbejdsgange. Workmodel kan anvendes i sammenhæng med Dynamics 365 eller andre ERP-løsninger.